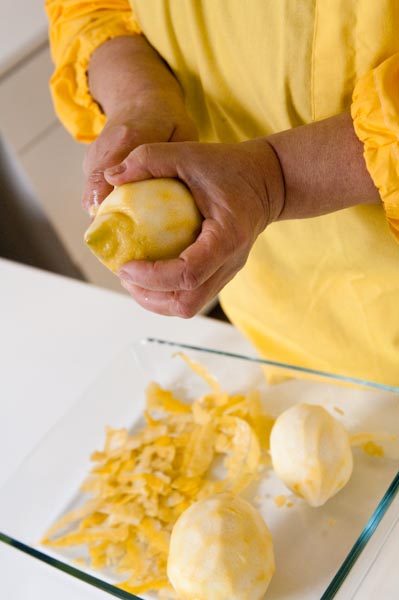 Frida's Limoncello
The production of Frida's Limoncello requires only the rinds of organic lemons, which are removed from the fruit immediately after harvest, in order to enhance the unique characteristics of this fresh fruit.
Particular attention is given to processing: only glass containers are used to avoid contamination and to help preserve the original flavour of the lemon.  The rinds are mixed with pure alcohol allowing them to steep for a determined and controlled period of time.
Once infusion is complete, additional ingredients like sugar and purifed water are combined, and it is absolutely free of additives and dyes and also Gluten Free.
The quality control team ensures perfect execution of each phase, from the selection and inspection of raw materials to the delivery phase of the finished liqueur.
For this reason, we are proud to be able to serve our Limoncello, Frida's Limoncello, and grant you a unique sensation while you are enjoying our liqueur – a perfect harmony between the delicacy enclosed in the Amalfi coast, and the right amount of alcohol and sugar. A taste that can capture the true meaning of every connoisseur.Frida's Limoncello are certified "Gluten Free", the alcol content is 28% Volume, can be stored in fridge. Serve cold. Drink responsibly