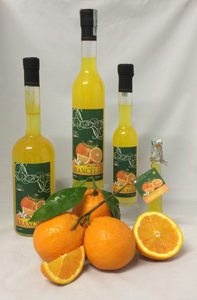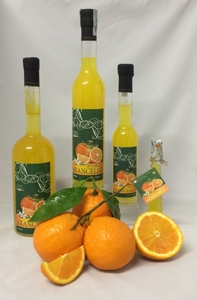 Frida's Arancello
The Arancello is obtained with the same technique of production of Frida's Limoncello by manual peeling Orange, it is only used orange peeled side of the orange without the white part, removed from the fruit immediately after harvesting in order to highlight the unique characteristics of the fresh fruit this for conserving the scent of orange strictly true.
At the orange peel we just add pure alcohol and let soak for a period of time. The infusion thus obtained is added water and sugar, of course these are the only ingredients and the alcohol content is 28%.
For infusion, mixing and filtering, we use only glass containers to avoid contamination and to encourage the original aroma retention without any alteration.
The particular mode of production combined with the quantity of oranges used in our liquor gives a true intense ORANGE color which reveals the high quality and simplicity of our liquor and has a unique scent of freshly picked real ORANGES.
The care of each detail guarantees the perfect execution of each stage of processing, it is the choice of the valuable raw material, both the phase of delivery of the finished product.
Can be stored in fridge or freezer as preferred. Serve cold or ice cold.