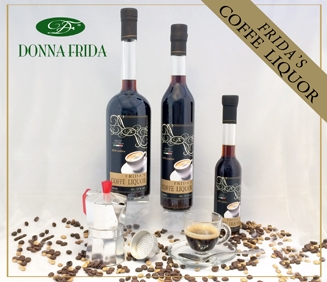 In de productie van onze koffie likeur gebruiken wij een 100% Arabische koffie dat de juiste balans geeft tussen aroma en sterke italiaanse espresso smaak.
Het "Mr Exclusief", de 100% Arabische koffie van Lucaffe was het ideale ingredient voor het maken van Frida's Coffee. Frida's coffee bevat 25 % alcohol vol. Erg aangenaam en met een sterke smaak van espresso koffie gemaakt met het Moka espresso apparaat zoals oma dat maakte,dat ook herinnert aan een beroemde koffie chocolade. Het zal aan u zijnom te ontdekken welke…..
Door de ambachtelijke manier van produceren, kan het gebeuren dat de vloeistof zich wat scheidt, maar dat komt omdat dit een natuurlijk product is.Wij raden aan om voor het serveren even te schudden en het ijskoud van de vriezer te proeven.
Frida's coffee is "Gluten vrij" net als alle likeuren die we produceren.Het is een perfecte likeur voor bij een toetje of over ijs of als u dat lekker vindt kunt u het gebruiken in taarten of een bijzonder gerecht.